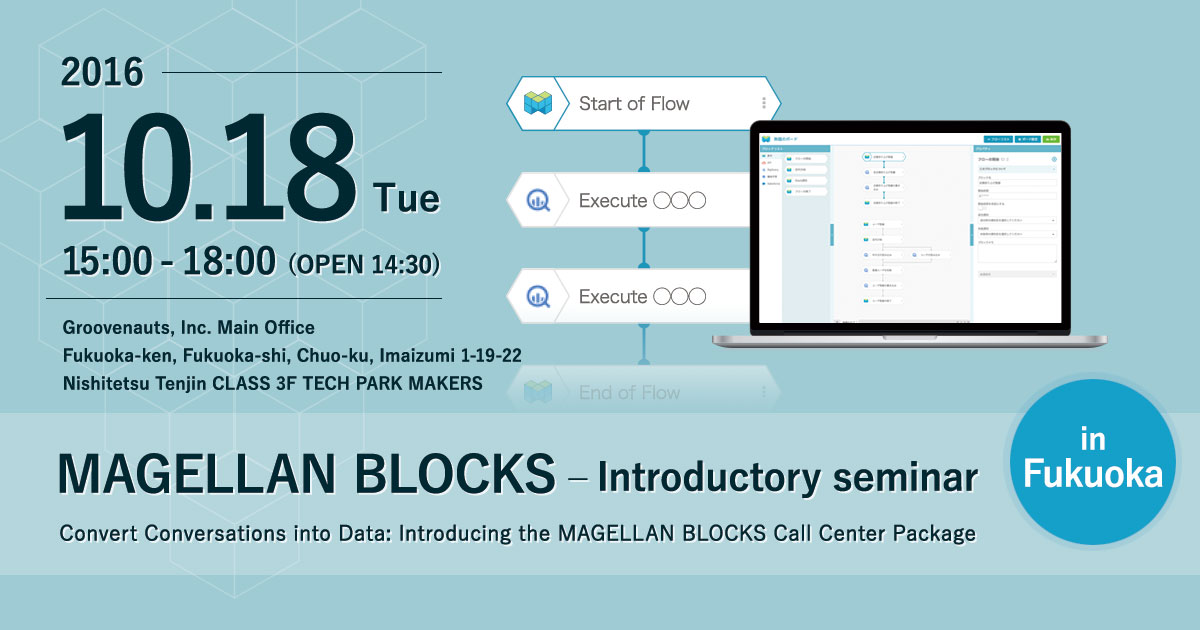 10月18日(火) 『MAGELLAN BLOCKS』ご紹介セミナー in 福岡
Convert Conversations into Data: Introducing the MAGELLAN BLOCKS Call Center Package
Introducing MAGELLAN BLOCKS' new feature: The Call Center Package.
Using Google's Machine Learning, you can now convert important conversations between operators and customers, support centers and users into text dialogs. Beyond just transcribing, the Call Center Package can support operators, analyze text and extract keywords, save the results to BigQuery or Salesforce, and more.
Connect with IoT devices, harness the power of Machine Learning, and save important conversations with the Call Center Package. With MAGELLAN BLOCKS, rapidly expand the potential of your business.
Join us at our seminar to learn more about MAGELLAN BLOCKS, the new Call Center Package, and to see actual examples of how they can be used.
【Details】
[Date/Time]
October 18, 2016 (Tuesday), 15:00 - 18:00 (Registration opens at 14:30)
[Location]
Groovenauts, Inc. Main Office
Fukuoka-ken, Fukuoka-shi, Chuo-ku, Imaizumi 1-19-22
Nishitetsu Tenjin CLASS 3F TECH PARK MAKERS
[Map URL]
http://www.groovenauts.jp/company/
[Host]
Groovenauts, Inc.
[Joint Sponsor]
SystemForest,Inc.
[Maximum Attendees]
30 (seating is on a first-come, first-serve basis)
[Contact]
Contact Form
Phone: 03-4243-8668
Contact name: Nakamura at Groovenauts, Inc.
【Program】
Session 1 (15:00~15:40): Using MAGELLAN BLOCKS for Machine Learning

Speaker: Eihiro Saishu, Groovenauts, Inc. President & CEO

Session 2 (15:40~16:40): MAGELLAN BLOCKS Live Demo

Live demonstration of building a Machine Learning system in BLOCKS, and introduction of the soon-to-be-released call center package.

Break

Session 3 (17:00~17:40): Demonstration from BLOCKS User: Using the Vision API


Speaker: Wasaburo Miyata, Systems Department, KAHO MUSEN HOLDINGS CO., LTD.

QA/Survey responses (17:40~18:00)
*Speakers and topics may be subject to change.
This seminar has concluded.