Groovenauts CEO, Eihiro Saishu, will speak at the "Salesforce Innovation Summit 2016" on September 15th (Thursday).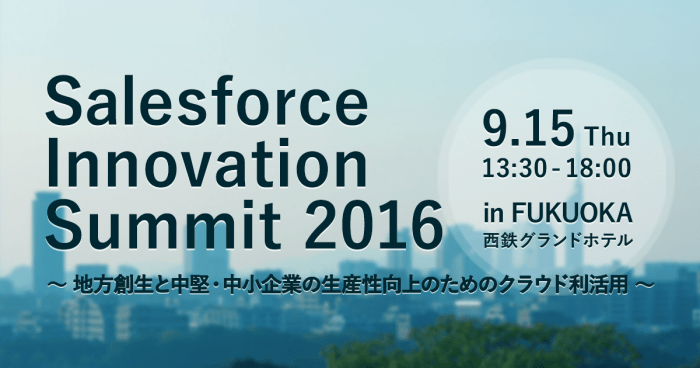 It is often said that expanded use of cloud, mobile, and smart ICT will be indispensable to future growth of the Japanese economy. While use of such technology is growing rapidly—and bringing positive economic returns to companies—this growth is comparatively low in regions outside of Tokyo.
In an effort to change this situation, Salesforce will host the "Salesforce Innovation Summit 2016" in Fukuoka. Along with acting as an introduction to Salesforce services and demonstrating results of their use, the summit's goal is to deepen understanding, raise interest, and increase usage of cloud technology in Kyushu.
Eihiro Saishu, Groovenauts CEO, will act as closing speaker with a topic of using Salesforce for IoT, machine learning, and the like. In his speech, he will demonstrate just how simple it is to connect MAGELLAN BLOCKS with Salesforce to analyze big data, create IoT systems, utilize machine learning, and more.
Attending this event will require prior registration. Please see the event website for more information.
▼Event details▼
『Salesforce Innovation Summit 2016』
Date/Time:
September 15th, 2016 (Thursday) 13:30-18:00
Location:
Nishitetsu Grand Hotel (Fukuoka-ken, Fukuoka-shi, Chuo-ku, Daimyo 2-6-60)