Think it. Build it.
Machine Learning for all
It's as simple as building BLOCKS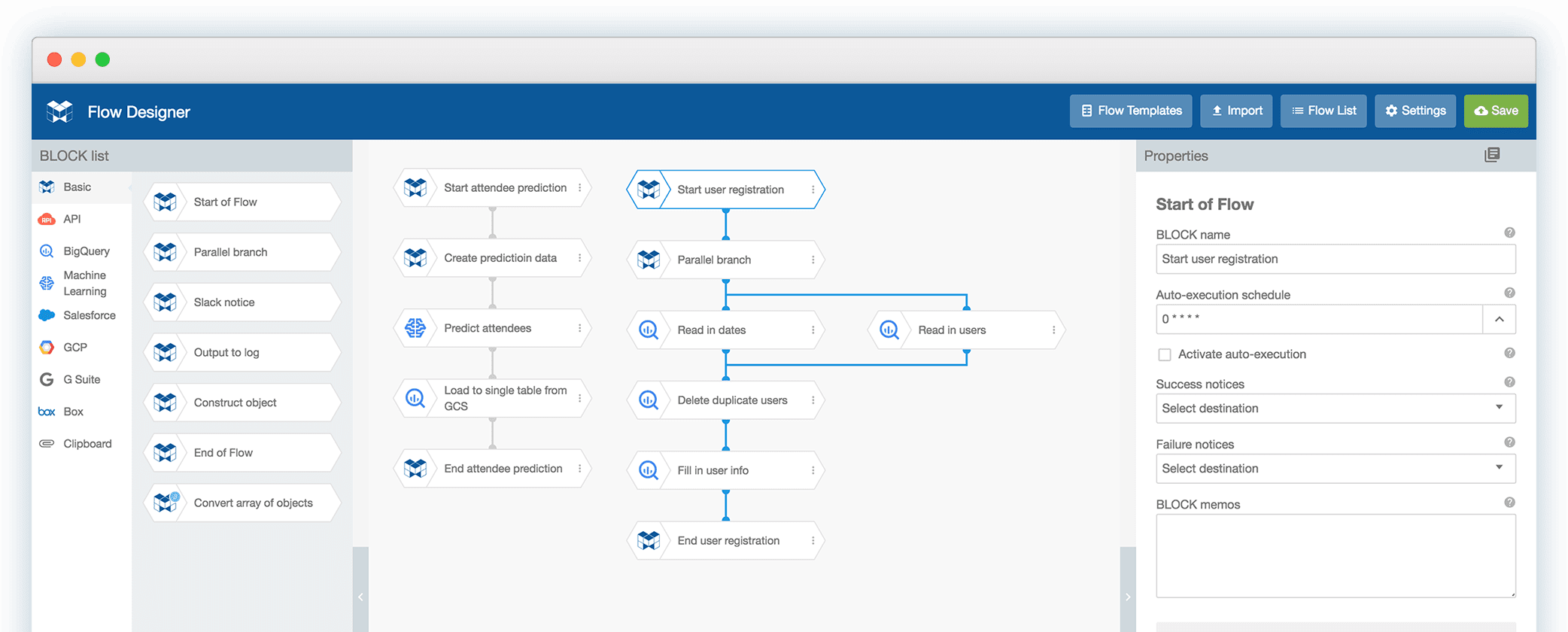 Join our 30-day free trial and
experience the power of Machine Learning
We're offering 30 days of powerful, intuitive Machine Learning for free.
Sign up today and get started with MAGELLAN BLOCKS.
Predict sales, detect fraud, and more

We're always working on
new, powerful BLOCKS

We've prepared all sorts of machine learning BLOCKS for you to use.
Simply snap together multiple BLOCKS and
discover your own data-driven solutions.
Demand forecasts
Make data-driven plans for your business. Train regression models to predict important values like sales numbers, event attendees, or energy demand.
Classification
Use a classification model to sort your data between categories. From deciding credit approval, detecting abnormalities on a production line, or sorting produce on your farm—there are countless scenarios for use.
Image analysis
Discover depths of useful data from a single photo. Determine the main focus, count people and analyze their expressions, detect adult content, transcribe text, and more.
Speech analysis
Convert audio conversations into accurate transcriptions in real-time, even without editing background noise. Supporting English, Japanese, and over 80 other languages.
Translation
High-speed translation between over 90 different languages. Auto-detection can determine the source language, even if you don't recognize it yourself.
Natural language processing
What are people saying about your company on social media? How do they feel about your latest product? Analyze text to determine topics, sentiment, and more.
Don't just rely on outside experts

Build it yourself with BLOCKS

With an intuitive design and affordable pricing plans,
BLOCKS makes getting started with machine learning simple.
Now businesses can make data-driven decisions themselves,
without the need for expensive services and expert help.
Intuitive design
Once your data is prepared, using it for machine learning is as simple as snapping together BLOCKS. Our intuitive interface makes demand forecasting, classification, and numerous other machine learning tasks easy for anyone; no expertise required.
Affordably priced
Paying expensive service and consultation fees for machine learning is a thing of the past. Getting started with BLOCKS requires no initial investment, making it ideal for those looking to try things out on a small scale.
Learn for yourself
Relying on machine learning experts and consultants may give "results," but not "know-how." By using BLOCKS, you and your team will gain the skills and knowledge required to quickly build your own data-driven solutions.
Adaptive and expandable
Connecting MAGELLAN BLOCKS to other services is simple, so you can start small and build up at your own pace. Collect data, analyze it, and send the results into your company's existing systems.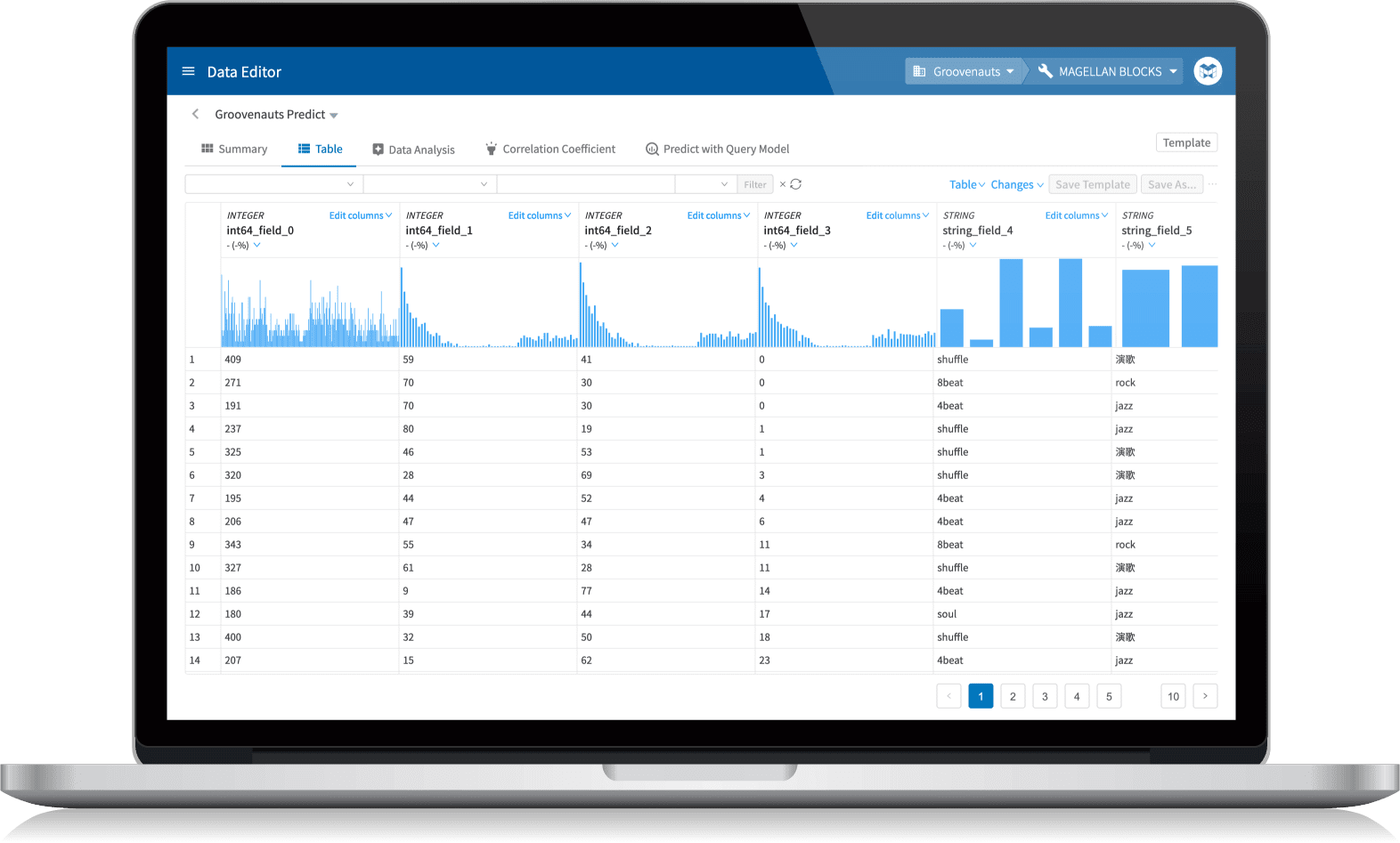 Collect data, train models, and get results

All the tools you need in one place

MAGELLAN BLOCKS does more than just machine learning.
Gather data, analyze it, and output the results—there are BLOCKS for every step of the way.
Decide how to process your data, then simply link together the required BLOCKS.
Collect data
Data Bucket
You'll need lots of good data for accurate machine learning. With the Data Bucket, you can easily gather and store images, audio, CSV files, and data from sensor devices.
Train models
Model Generator
Use your data to develop highly accurate prediction models and generate Machine Learning BLOCKS with the Model Generator.
Connect BLOCKS
Flow Designer
Snap together data processing flows on the Flow Designer. Choose how to analyze your data and output the results by freely configuring BLOCKS.
Pricing

Scale up as needed with
affordable pricing plans
Full Service Plan
recommended
Sign up and get started right away
MAGELLAN BLOCKS
Google Cloud Platform
We'll handle the GCP side, so you can get right to work using BLOCKS.
GCP usage fees and handling fee* apply in addition to
MAGELLAN BLOCKS service fees.
*20% of GCP usage fee or a $30 minimum
Self-Service Plan
Manage Google Cloud Platform on your own
For those familiar with GCP
Set up your GCP environment, handling all
configuration and payments on your own.
We recommended this plan for those
already comfortable using GCP.