What is MAGELLAN BLOCKS?
What is the Data Bucket?
The Data Bucket (formerly IoT Board) creates a system to collect data from IoT devices and store it into the cloud.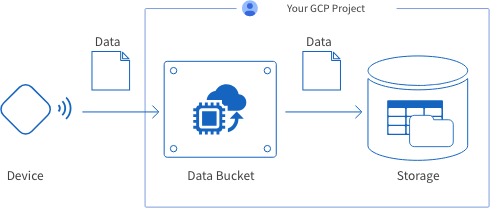 BLOCKS automatically constructs this within your Google Cloud Platform (GCP) project, so you don't need specialized knowledge for building systems in GCP.
GCP service charges will apply separately from BLOCKS fees.
Because the Data Bucket creates its system within your GCP project,
There are two types of Data Bucket for collecting data, as shown in the chart below.
Type
Explanation
Message-receiving type:

Collects comparatively small data (messages) such as acceleration, temperature, or humidity from devices and stores it into BigQuery tables.

File-receiving type

Collects files, such as images, recordings, etc., from devices and stores them into Google Cloud Storage.
Can also store logs (file name, save date, etc.). (Optional)
Can trigger a Flow from a Flow Designer to execute upon upon a file being stored. (Optional)
The third type of Data Bucket, the Dialogflow Connector Type, is different from the two above that collect and store data. It connects Flows from the Flow Designer with Google's Dialogflow service.
Refer to the following pages for detailed instructions on using Data Buckets: